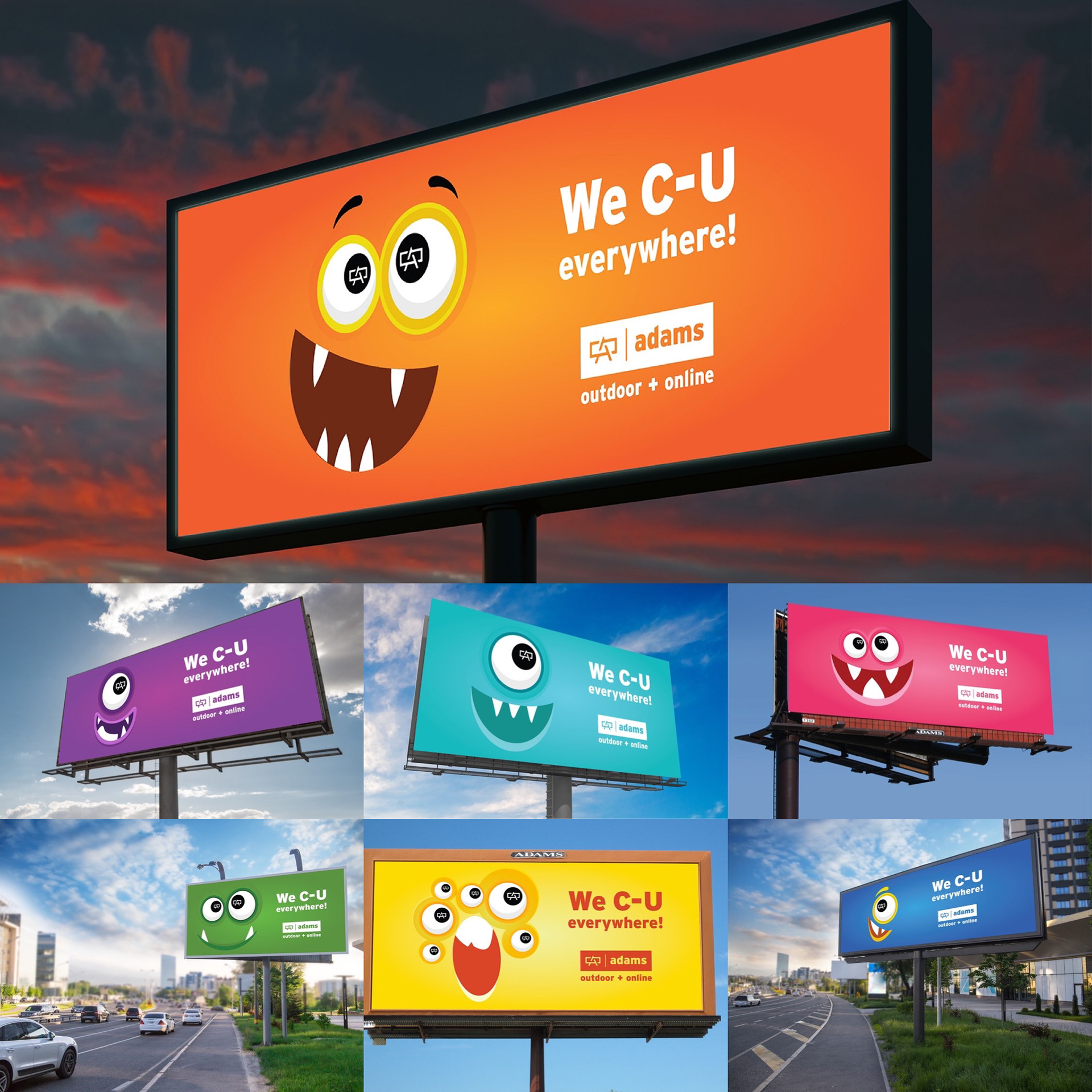 Adams Outdoor Advertising Self-Promotional Campaign
This Adams Outdoor Advertising self-promo campaign was originally created for Champaign-Urbana, IL. The art team in Madison, WI, ran them on their digital boards as well. They made a big impression on a young fan, and I received a heartwarming thank-you note from Katie LaMarca, the Adams Sales Assistant in Madison.
***
Hi Dan,
I wanted to write to you to share a very touching story that YOU helped set in motion. A few weeks ago a woman called our office inquiring about the "We C-U Everywhere monster billboards" that ran on our digitals in Kenosha and Racine. She told me that she had a very young autistic son that absolutely loved when they drove past and saw the monster creative. When she called, she said that the creative was no longer running and her son, Zach, really missed seeing it. She asked me if I could send her the picture file, which we were happy to do! We took it one step further, however. Evan and I worked together and decided to send them one of our mini billboards with all of the monster creatives so Zach could pop them in and out of the billboard to see all of the designs he loved. I sent this last week and got this email on Monday:
"I cannot thank Adams Outdoor Advertising enough for sending Zachary the miniature billboard with his favorite monsters ad!  What an awesome surprise it was for Zach! He loves it so much!
For Zach it was much more than just having a mini billboard. He doesn't play with toys like a typical child does, but when he saw the billboard come out of the box, he said that he wanted to get some toy cars and buildings so he could make his own highway here at home. This is a huge present for us all! Seeing Zach interested in play is a gift that we will cherish. Thank you from the bottom of our hearts!  Your kindness is appreciated."
Creating these little monsters was much more than a promotion for Adams that you created, Dan – your design literally changed a child's life. Thank you so much for all you do.
All the best,
Katie