Wade's Family Restraurant
Illustrations I created for Spartanburg, SC iconic Wade's Family Restaurant billboard campaign. For nearly 25 years, Wade's Family Restaurant ran an illustrated campaign featuring customer submitted puns based around southern food and popular culture.
Frosty The Doughman - featuring a Frosty the Snowman parody character made out of Wade's famous wheat rolls.
Ear Force One - this campaign played off of the 2016 election. Originally we had planned on having two separate designs at the printer so that as soon as a winner was announced we could have the one featuring the caricature kernel of the winning candidate printed and posted ASAP. We ended up going with the more general design you see below.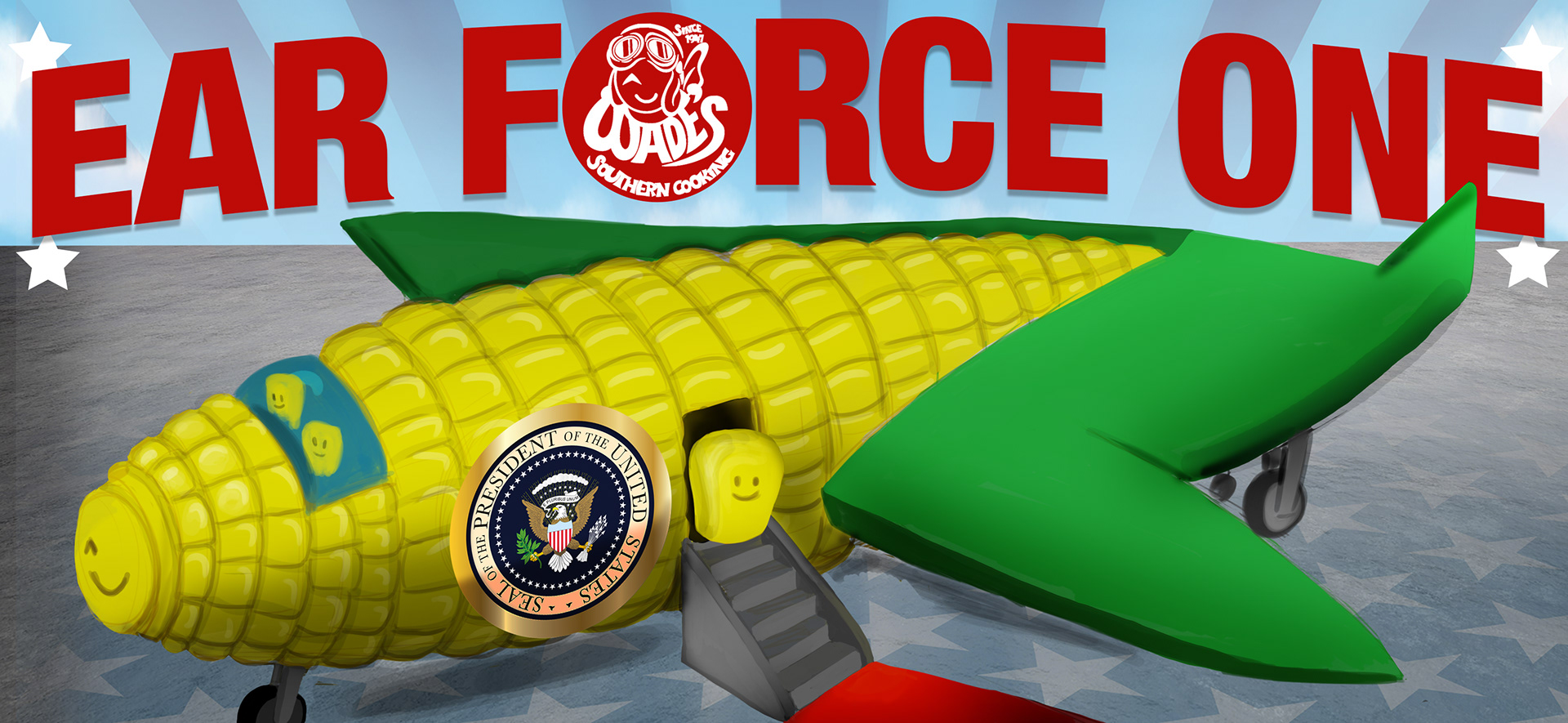 Unused Hilary Clinton kernel variation.
Unused Donald Trump kernel variation.
CommenTater - featuring a potato news announcer reporting on the 2016 election.
Living on Greens - featuring a caricature of pro golfer, Wofford Alumni and Wade's customer - William McGirt. Wofford college posted a
photo
 on their Facebook page that was well received. Additionally, the Golf Channel PGA Tour ran a
segment
 on the Golf Channel a featuring William McGirt visiting the billboard.
Corn in the USA - featuring a caricature of Bruce Springsteen as a corn cob.
Grilled chicken - featuring a guilty chicken getting grilled.
Batham V Superham - a parody of the 2016 Batman V Superman movie.
The Fork Awakens - featuring a caricature of the owner of Wade's and the vegetable characters BB-ate and Chewbroccoli.  
Cuuuke! - a billboard honoring Carolina Panthers linebacker Luke  Kuechly.
Yam Newton - a billboard honoring Carolina Panthers quarterback Cam Newton. Read an article about the billboard and Wade's ongoing campaign
here
. Note, the article erroneously credited the art director of the campaign as being the artist.