Prairieland Feeds Pet Fair Extravaganza Teaser and Reveal Campaigns
For the last few years Prairieland Feeds has run a two-week teaser and reveal campaign promoting their annual Pet Fair Extravaganza. From their press release: "A free, family-friendly event showcasing a petting zoo, non-for-profit animal welfare and adoption organizations, and more." Below are the 2018, 2017, and 2016 campaigns.

2018 Prairieland Feeds Pet Fair Extravaganza "Vote For Me!" Teaser and Reveal Campaign
2018 "Vote for Me!" Teasers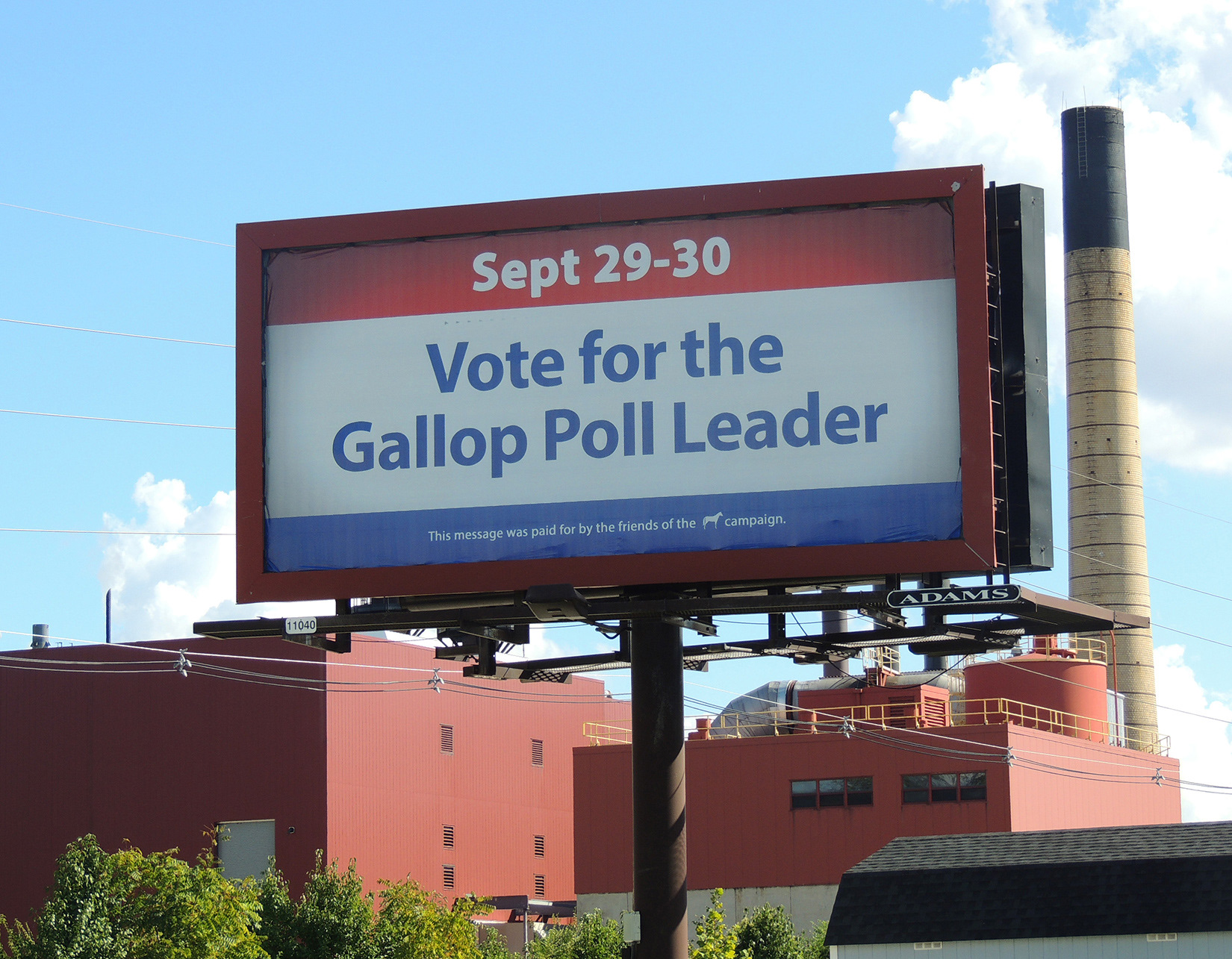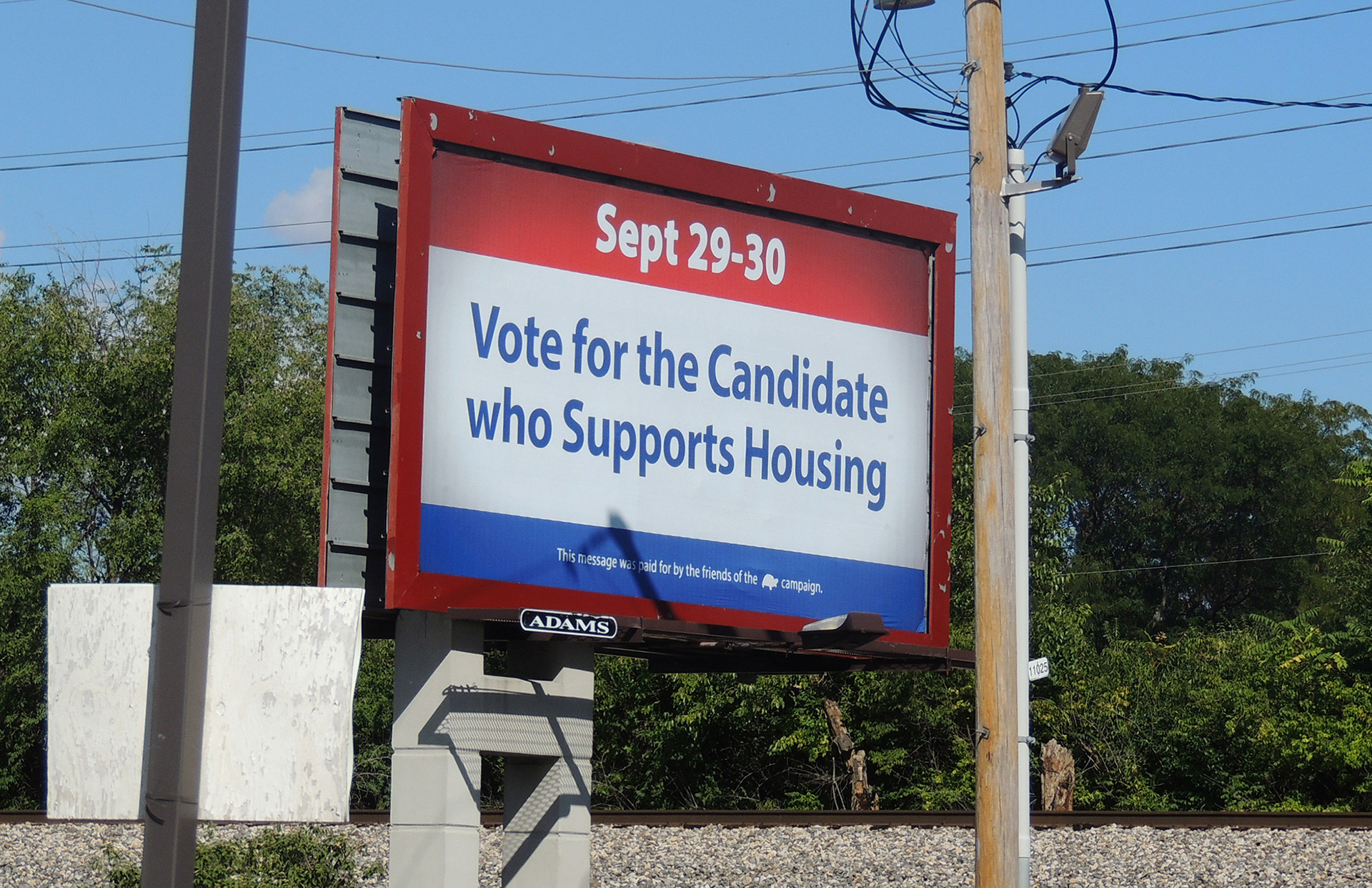 2018 "Vote for Me!" Reveals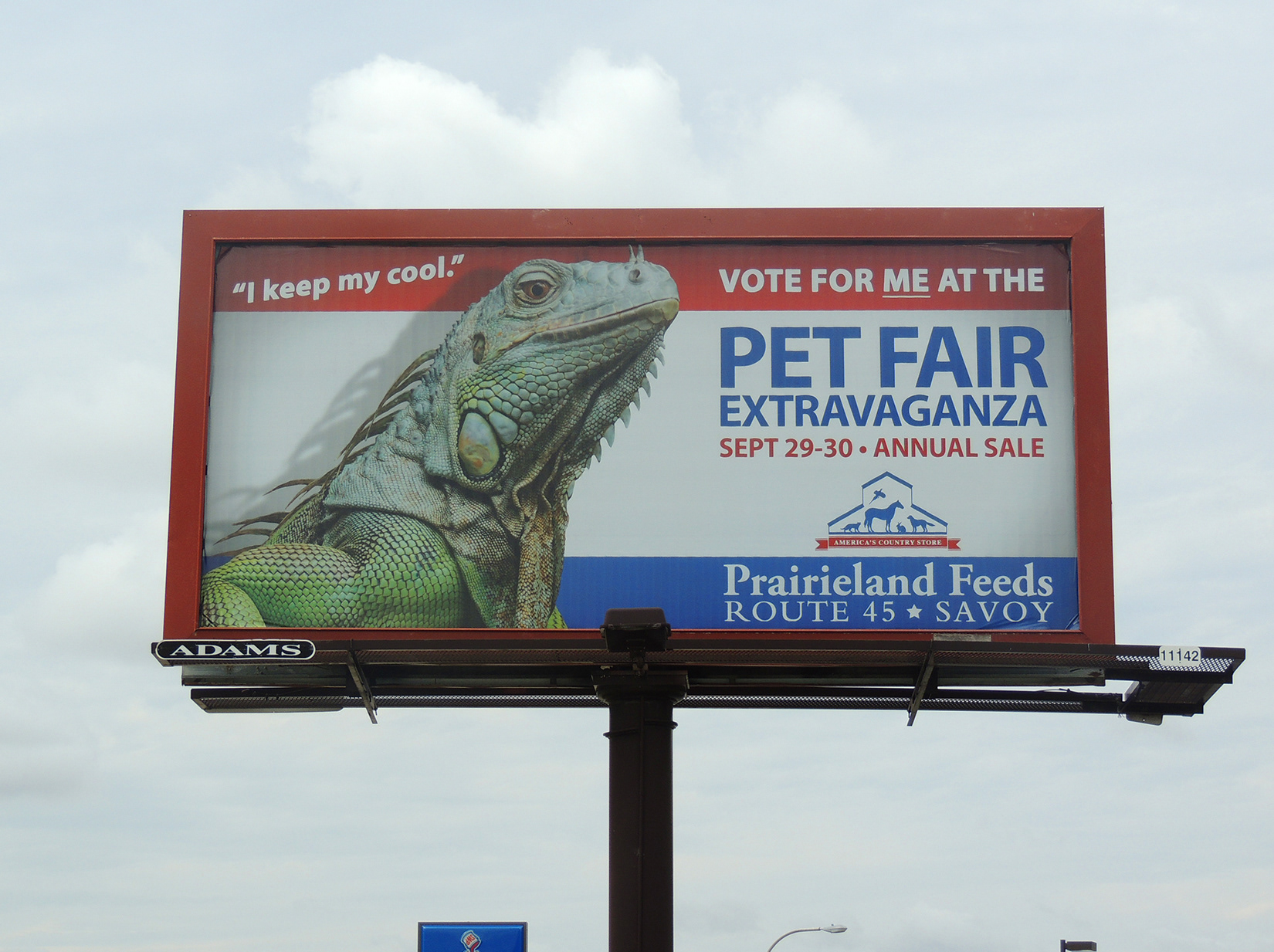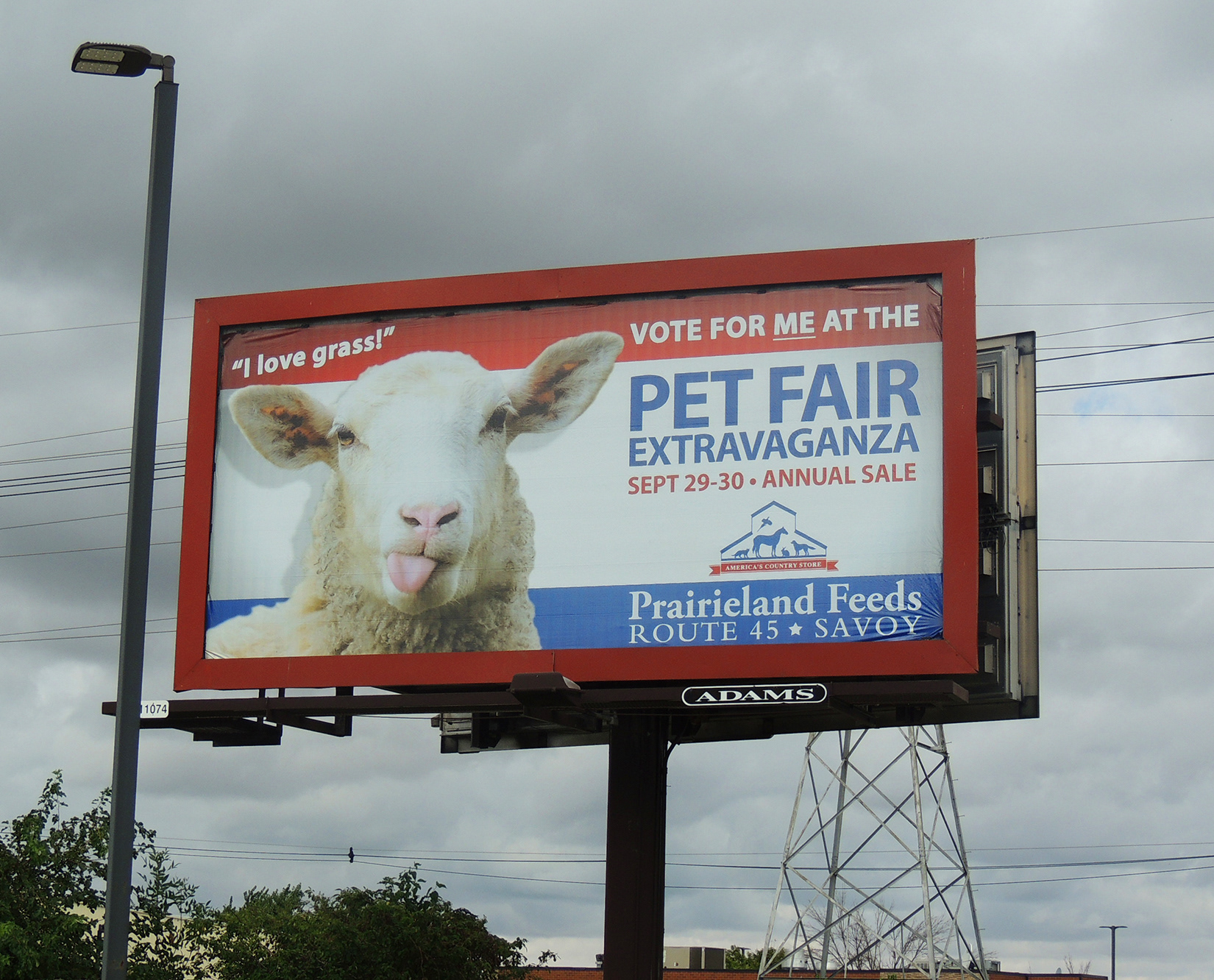 This campaign was a finalist for an OBIE award. Below is a description of the campaign that appeared in the 2019 OAAA OBIE Awards book.
What inspired you and your team?:
The 2018 midterms were a big deal, generating a lot of manure, a ton of political ads, and causing a lot of passionate people to act like animals. We thought it would be fun to add to the mix by giving the community a cast of lovable and charismatic candidates to choose from – the animals at the Prairieland Feeds Pet Fair.
It was a blast to come up with the various animals' political platforms. A lamb would love grass, a turtle would support housing, a hawk would have vision, a horse would lead the "Gallop" poll, and a macaw would definitely tweet better. The copy wrote itself. Maybe our spirit animals assisted a little. 
The client–who we absolutely love–was totally onboard with the idea, and was excited to host an all-ages election at the event.
We utilized a two-week teaser and reveal campaign featuring 12 unique candidates. First we posted evocative policy statements, and a week later we posted the reveals. The teasers generated a lot of curiosity around town, were featured on the news, and in the case of the macaw execution, passionately discussed on social media. A week later the reveals went up, and the confused humans of Champaign-Urbana, IL, got to see the furry, feathered, and scaled faces of the mysterious candidates. A week later, the community stampeded to the Pet Fair and voted for their candidate of choice.
The horse, of course, won.
What would winning an OBIE mean to you?:
It's awesome to be a finalist, and an honor to win an OBIE in general. But, winning one for this campaign would be a win for the whole team and our spirit animals too. A two-week teaser and reveal campaign, featuring 12 animals and 24 executions, involves the whole market, from the administrative assistant in front of the building to the Ops manager in the back.
If we win this OBIE, it won't just be a win for the team on the account, it'll be a win for all the humans at the Adams Outdoor Advertising - Champaign branch, and for the voters, owners, and animals at the Prairieland Feeds Pet Fair too.
Honestly, it might even be a win for the democratic process, America, and the world. Hmmm, I might be getting a little carried away. But what can I say - an inspiring candidate can do that to a voter, and I vote.
Anything quirky, funny, or just plain gossipy about the project you'd like to share?:
The under-18 demographic seems to enjoy voting and really has the power to swing elections!
2017 Prairieland Feeds Pet Fair Extravaganza "Meet the Stars!" Teaser and Reveal Campaign
2017 "Meet The Stars" teasers
2017 "Meet The Stars" reveals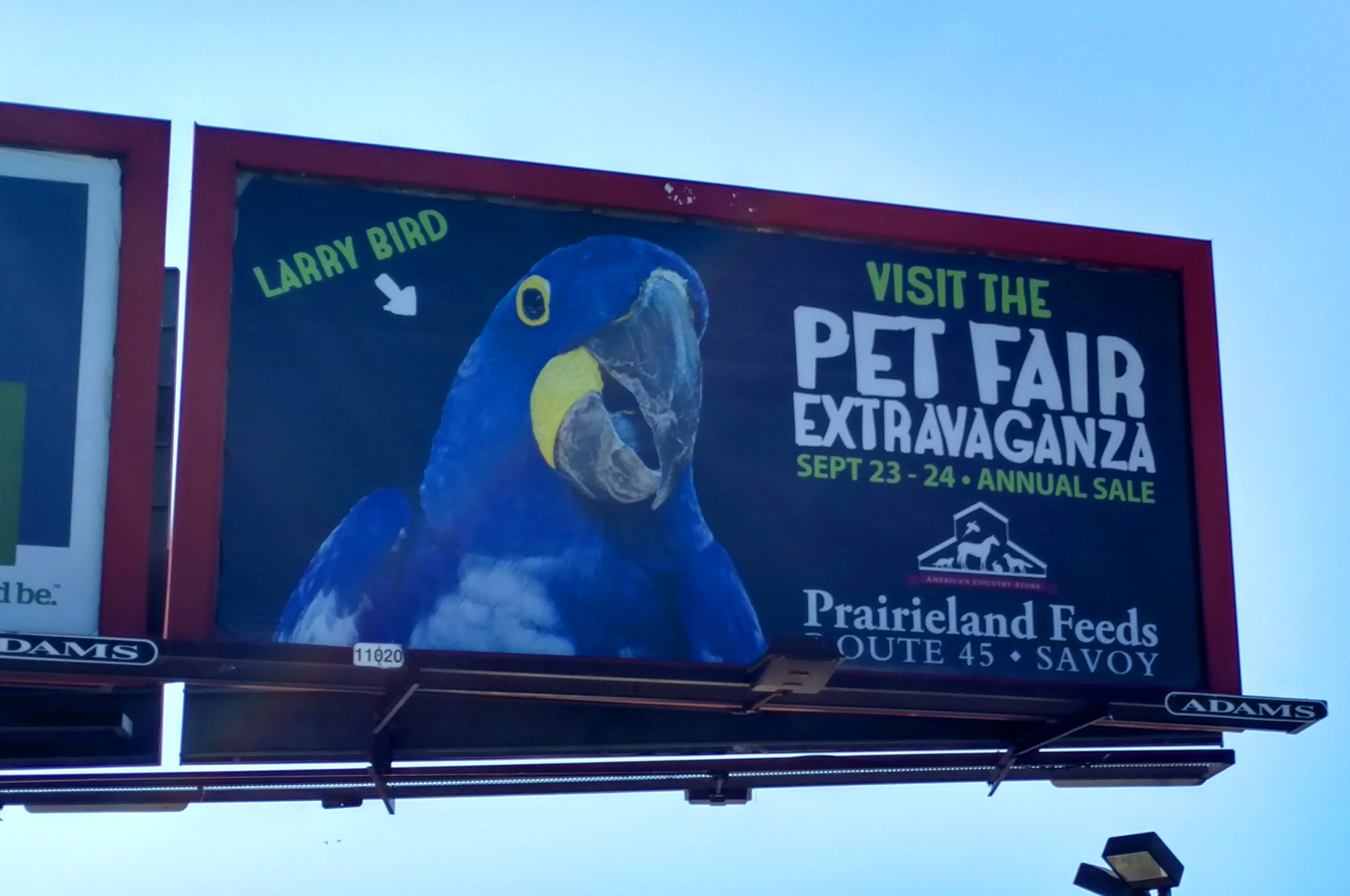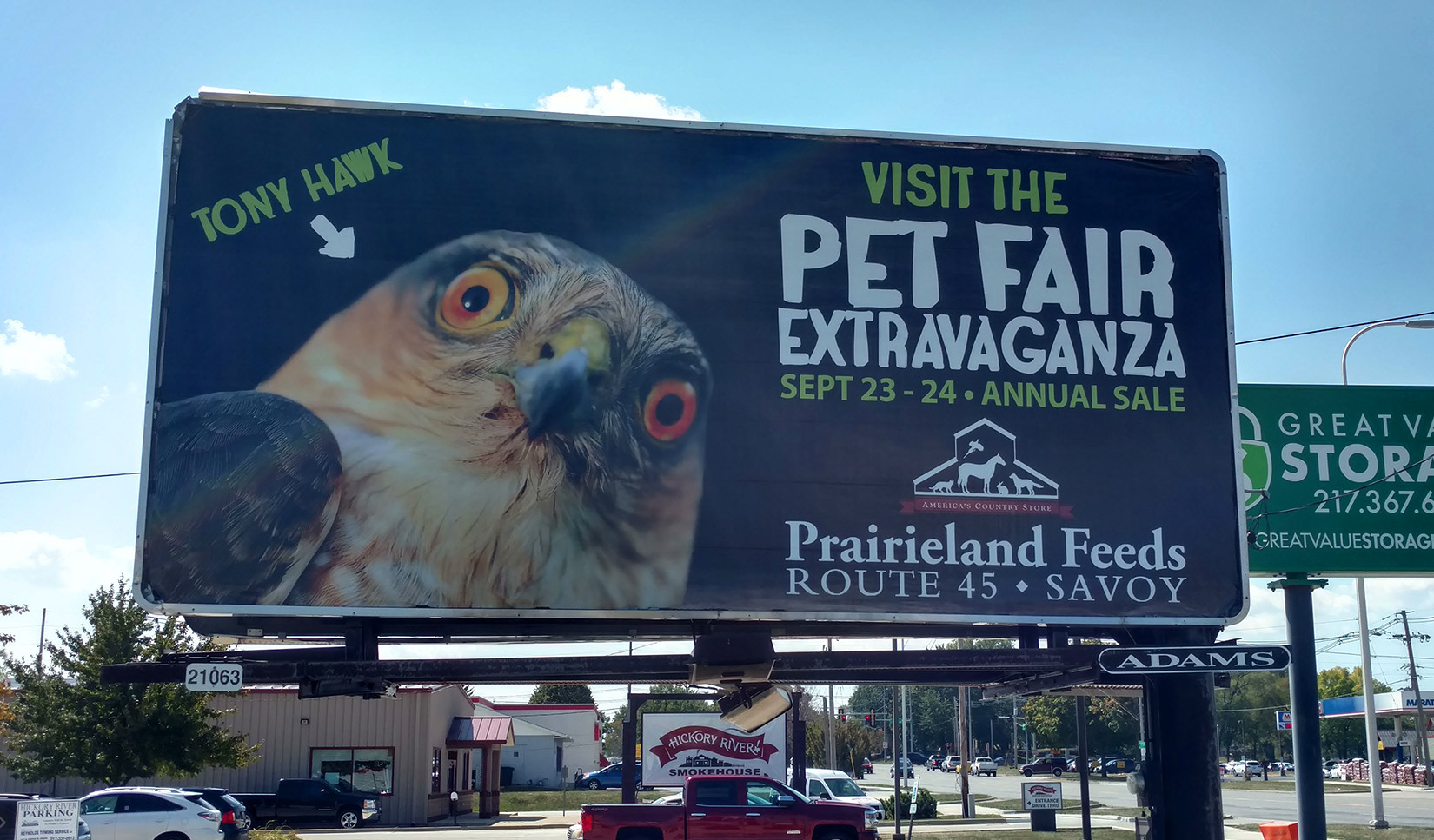 The 2017 campaign featured: 
1. Teasers reading "Meet (insert what appears to be a celebrity name here) Sept 23 - 24
2. Reveals featuring animal photos, showing that the "celebrity" names are actually a bird named Larry, a hawk named Tony, etc.
The community responded with curiosity, excitement and media coverage. 
Examples of coverage include:
• Discussion on local radio WDWS
• Television coverage on WCIA Channel Three, and local CBS and Fox affiliate stations.
• Multiple posts and shares on personal social media accounts.
The client was excited by the community interest in their teaser and reveal campaign generated and they are looking forward to next year's campaign.
2016 Prairieland Feeds Pet Fair Extravaganza "Have You Seen" Teaser and Reveal Campaign
2016 "Have you seen" teasers
2016 "Have You Seen" reveals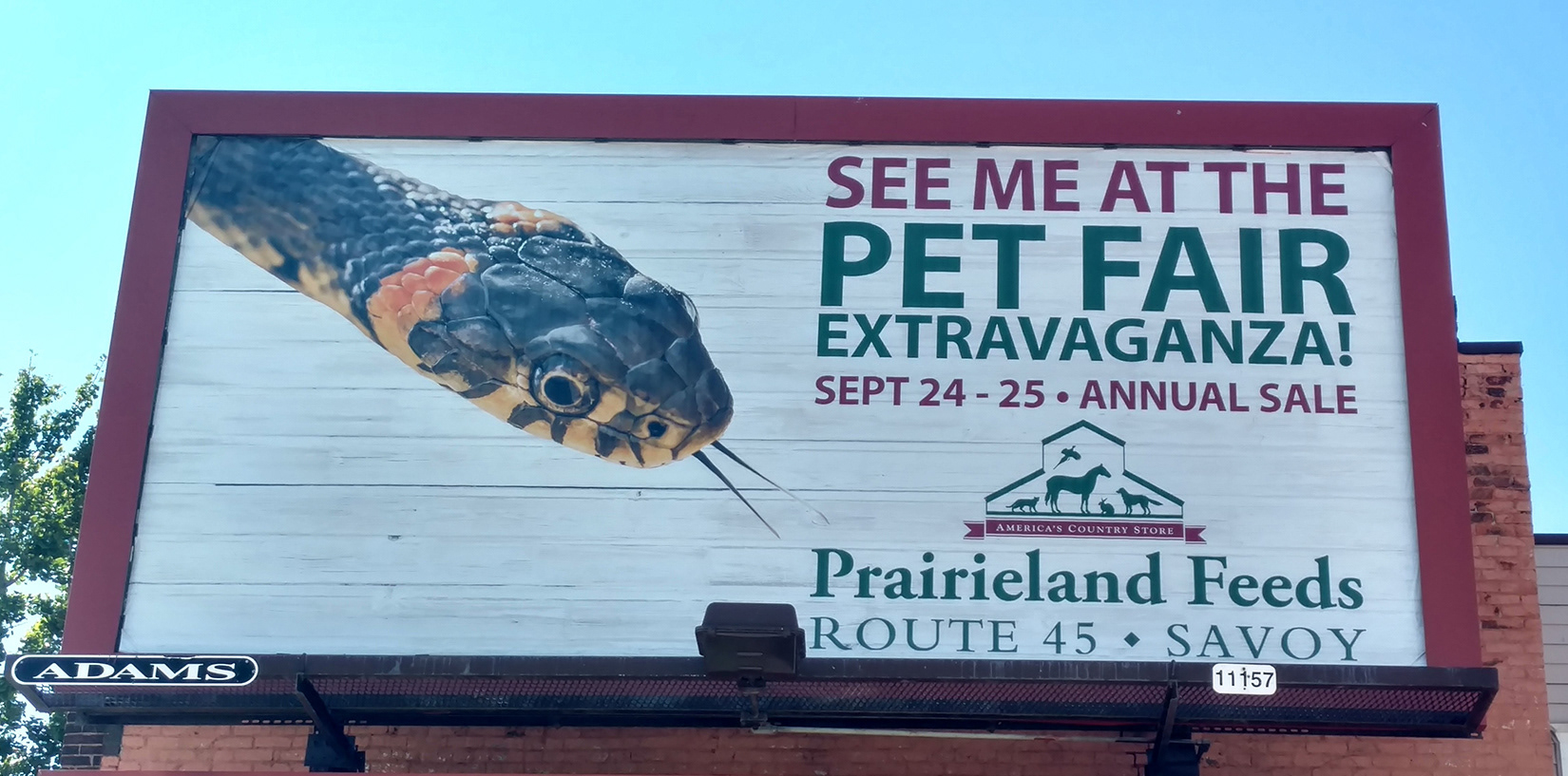 Prairieland Feeds 216 campaign's measurable results
• 9/9 morning radio show coverage - Stevie Jay 96.1Q

• Active discussion threads on social media
• Average of 10 calls per day, asking about the campaign
In terms of sales they noticed a slight up tick but don't have an exact number. They were however, pleased with the results and know that the campaign created positive momentum and energy. It's somewhat challenging for them to gauge during the event week, because they always get their biggest spike in sales during this event every year. The event itself is not always of equal comparison.  Everything from the animals they bring to the event, their sale items, and even the weather play a big factor. For example, it was 97 degrees this past year and they still saw what they saw was an increase in people and sales.
In terms of reaction and notable reactions they were mostly curious, fun and positive. When we launched the teaser campaign they were getting an average of 10 people per day calling and asking if there was a missing goat, horse, etc. People thought it was a fun clever idea when they were told what the campaign was for. Our client is also very favorable of the campaign and will do a teaser element again in 2017.
Overall, the client was delighted with the campaign. Being a local retailer, they believe it brought a ton of awareness to their store and the event in a very fun andengaging way.